Product
Viggen TWO Series
System on Module powered by NXP i.MX6UL ARM® Cortex®-A7 with Crypto Engine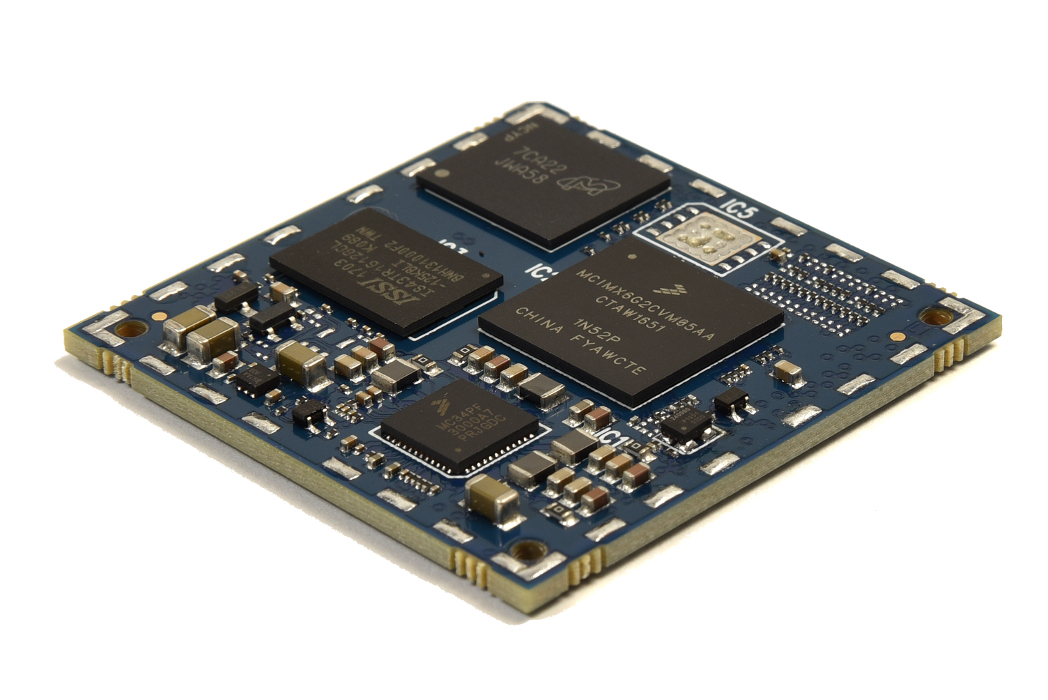 Overview
Viggen TWO is an Ideal Engine for General Purpose Control Units, Security Systems, Gateways for the IoT networks.
Security Features: Crypto Engine, Anti-Tamper, Secure Boot.
Easy soldering component: 43x43mm LGA package, with Shield Supports Security systems, Appliances and Gateways.
Sub GHz Radio, 2.4GHz and uSD support.
Key components
• NXP ® iMX6UL microprocessor, up to 696
MHz
• 256 Mbyte LvDDR3-SDRAM (16 bit)
• 2 GByte eMMC NAND Flash memory
• several security features
• operating temperature range 0°C + 85°C
• small form factor 43 mm x 43 mm
• easy solderable 246 pads LGA
• suitable for Pick&Place mounting
• growing open-source software ecosystem
Power supply:
• 3.7V – 5.5V single supply
• 3.3V power supply available
• VBAT pin for RTC backup (3.0V)
Interfaces available:
• 4-wire UARTS (x3)
• 24-bit RGB LCD Interface
• 8-bit Camera Interface
• I2C (x2)
• 4-wire SDIO (x2)
• Audio interfaces (SAI, SPDIF)
• JTAG interface
• SIM interface
• CAN interfaces (x2)
• Tamper detection
• CSPI interface
2x USB OTG HS/FS
• Ethernet 10/100 MAC (x2)
• CAN (x2)
• UART (x5)
i.MX6UL by NXP
Expanding the i.MX 6 series, the i.MX6UltraLite is a high performance, ultra-efficient processor family featuring an advanced implementation of a single ARM® Cortex®-A7 core, which operates at speeds up to 696 MHz.
The i.MX 6UltraLite applications processor provides various memory interfaces, including 16-bit LPDDR2, DDR3, DDR3L, raw and managed NAND flash, NOR flash, eMMC, QSPI SPI and a wide range of other interfaces for connecting peripherals such as WLAN, Bluetooth™, GPS, displays and camera.